On May 19-20, 2023 the tenth gathering of the nomadic hackathon and conference "Internet Without Borders" took place in Riga. The conference provided a platform for a long-awaited and challenging dialogue between representatives of the international technical community, independent Russian media "in exile," and Latvian civil projects.
The title of one of the most notable presentations on the first day, "Why is it so difficult to break the information bubble," set the trajectory for the conference's work. Developers, journalists, activists, and researchers not only discussed the most pressing issues in the field of internet censorship, propaganda, and information control but also proposed numerous innovative technical solutions to overcome information isolation. Seven hackathon projects made it to the finals, receiving prizes and support for implementation. Let's take a look at what was specifically created during our tenth hackathon.
Games Against Cheburnet
The Russian version of the "information bubble" has long been referred to as Cheburnet – the word has even entered into common usage in the international press and has become established in English academic literature. However, the sad little creature that emerged from the box of oranges bears no resemblance to Russian internet censors, and we still have to figure out how they think, who they resemble, and where their relentless battle against freedom of information is leading them. In order to "be Roskomnadzor," specialists from eQualit.ie and Department One came up with the game "Road to Cheburnet," inspired by Plague Inc. The goal of the game is for the player to terrorize the Russian Internet by devising new laws and technical means of blocking.
At the Riga hackathon, the design for the final version of this game was completed: one of the participants proposed a well-thought-out visual style and created a fully functional landing page prototype. In just a week, the game is scheduled to launch in beta version, and anyone who wishes will be able to not only assume the role of a builder of Cheburnet but also learn to better understand the logic of Russian internet censorship and choose the right tools to counter it.
Several screenshots of the final landing page of the game: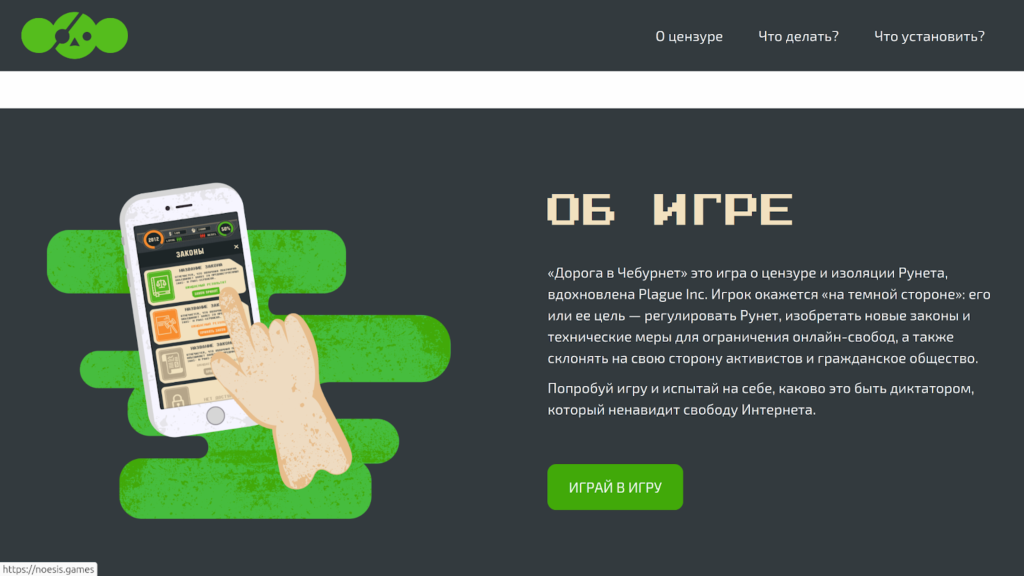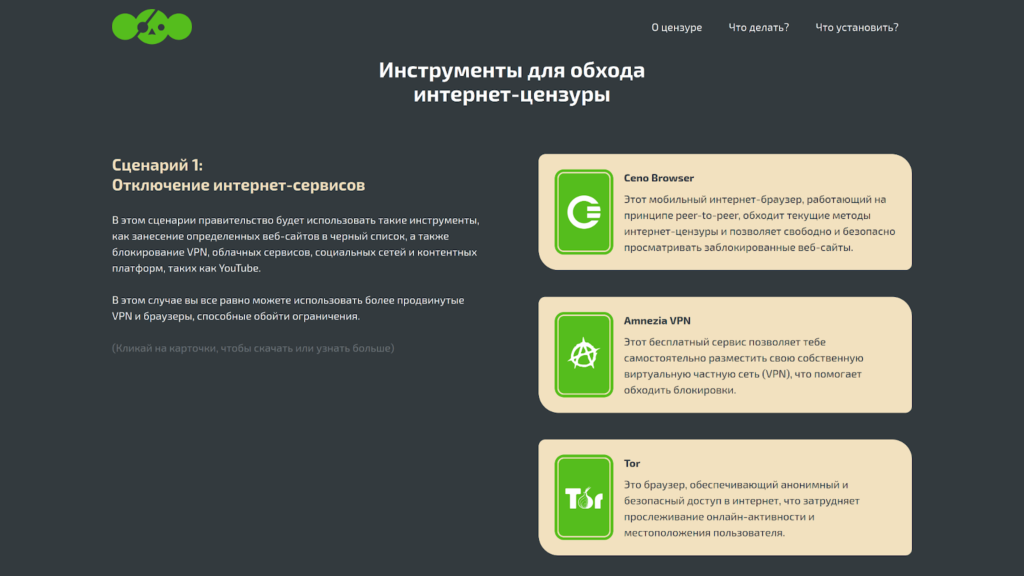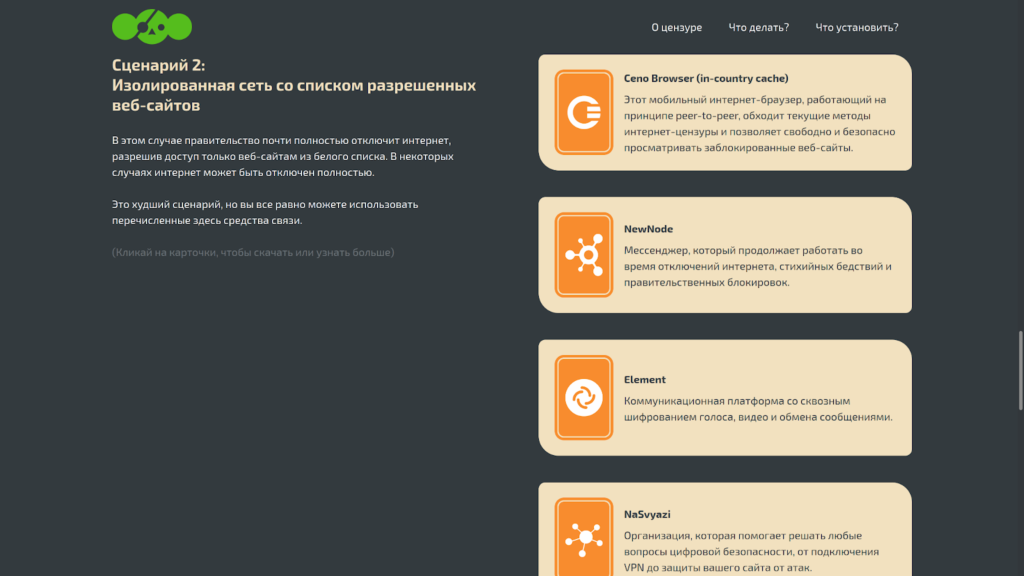 What to Do in Case of an Apocalypse? A Survival Guide in the Face of Cheburnet
But what if you have no time for games anymore, and things have gotten so bad that even the most basic internet services become unavailable? What do you do if even your VPN is disconnected? Unfortunately, such a scenario is not limited to a game format. A careful analysis of the laws enacted by Russian regulators in recent years, as well as testing of available VPN services by our researchers, reveal negative trends: an increasing number of popular VPN providers are being blocked or subjected to the so-called "throttling" (slowing down, deteriorating connectivity).
For such an apocalyptic scenario, eQualit.ie has developed an "emergency kit": a downloadable PDF brochure that can be shared with family and friends or printed and distributed in the good old-fashioned way, just like samizdat was once distributed.
At the Riga event, a team of journalists and designers was able to create the first version of such a brochure.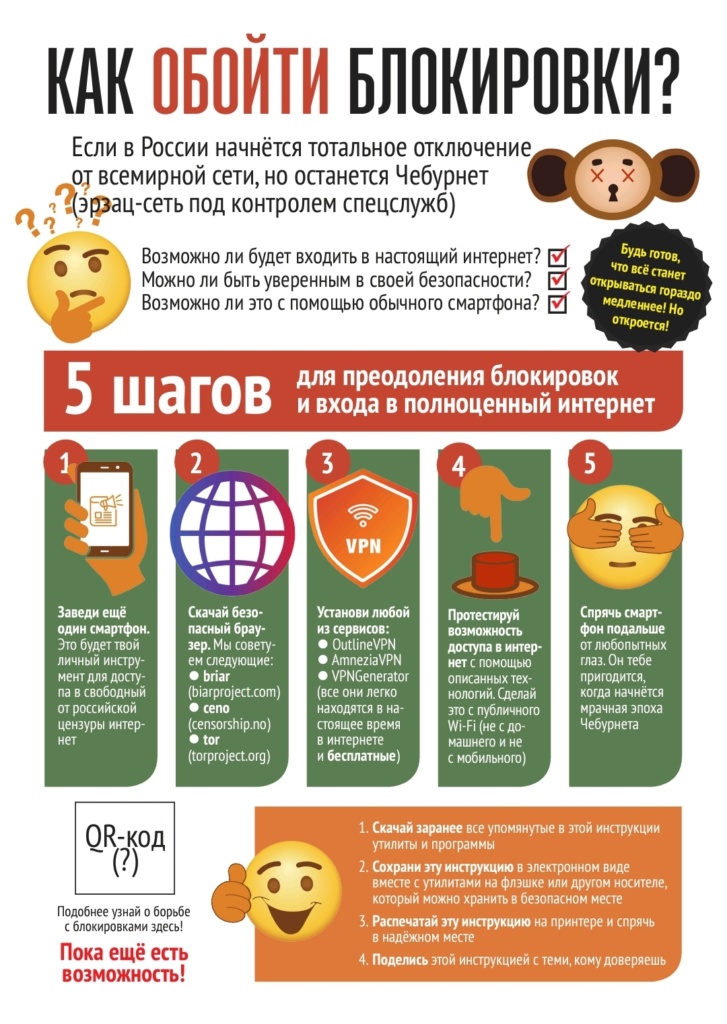 AmneziaVPN for Linux Arm
One of the VPNs recommended in our brochure and game is the open-source project called AmneziaVPN. It is a free service for creating a personal VPN on your own server. It helps gain access to blocked content without compromising privacy even to VPN providers. Currently, AmneziaVPN is functioning reliably in Russia and other countries with strict internet censorship, such as Uzbekistan.
During our hackathon, we managed to accomplish half of the work on building AmneziaVPN for the Linux Arm distribution. The hackathon organizers decided to recognize the participant's efforts, even though only part of the work was completed. If you have the skills and the desire to finish what has been started and contribute to a socially significant project, you can find the code here:
https://github.com/i-ky/amnezia-client/tree/flatpak
How to choose a reliable VPN?
In a situation where reports of the inaccessibility of various circumvention tools emerge almost every week, not all users can quickly navigate and find a new working and trustworthy solution. The digital security hotline "Na Svyazi" has come up with the concept of a Telegram bot for VPN recommendations, and the participants of our hackathon in Riga have created such a bot.
You can add this bot to your chat, and whenever questions about VPN services are mentioned, the bot automatically sends a selection of verified tools. We are awaiting the official availability of the bot, but for now, here is the bot's code:
https://github.com/artjoma/recommendation-bot
Following the footsteps of conscientious objectors: a game about mobilization
Once again, the editorial team of the horizontal Russia magazine "7×7" decided to address a serious topic in a gaming format, this time focusing on mobilization and its consequences. "First Wave" is a text-based quest that invites participants to follow the path of those evading conscription. Players constantly find themselves in situations that require difficult choices, and their future fate depends on each decision. Why is it not worth going to the draft board? Why is it much better to be altruistic and help other conscientious objectors? How to avoid getting caught at the border and manage to leave? What challenges await you in a new place?
The game is based on real testimonies of people who chose not to participate in the war between Russia and Ukraine and embarked on the challenging path of seeking refuge. The game not only serves an educational purpose by illustrating the trajectories of conscientious objectors through real examples but also supports charitable organizations. By making a donation to one of the supporting funds, players gain access to additional features and storylines.
During our hackathon, we managed to create a Telegram bot that hosts the quest itself. Soon, the "7×7" editorial team will launch the game for all readers.
Bot code:
https://github.com/olegserofff/7x7bot
Some screenshots from the game: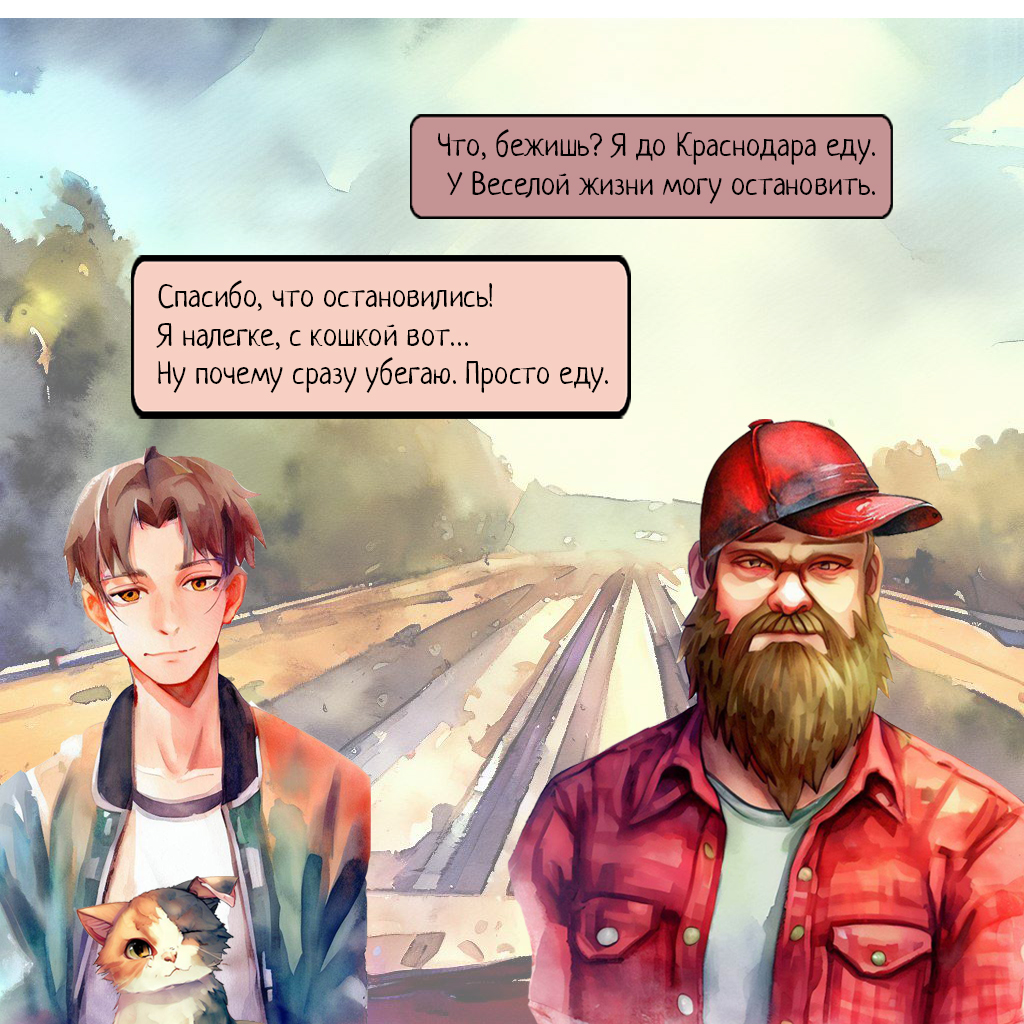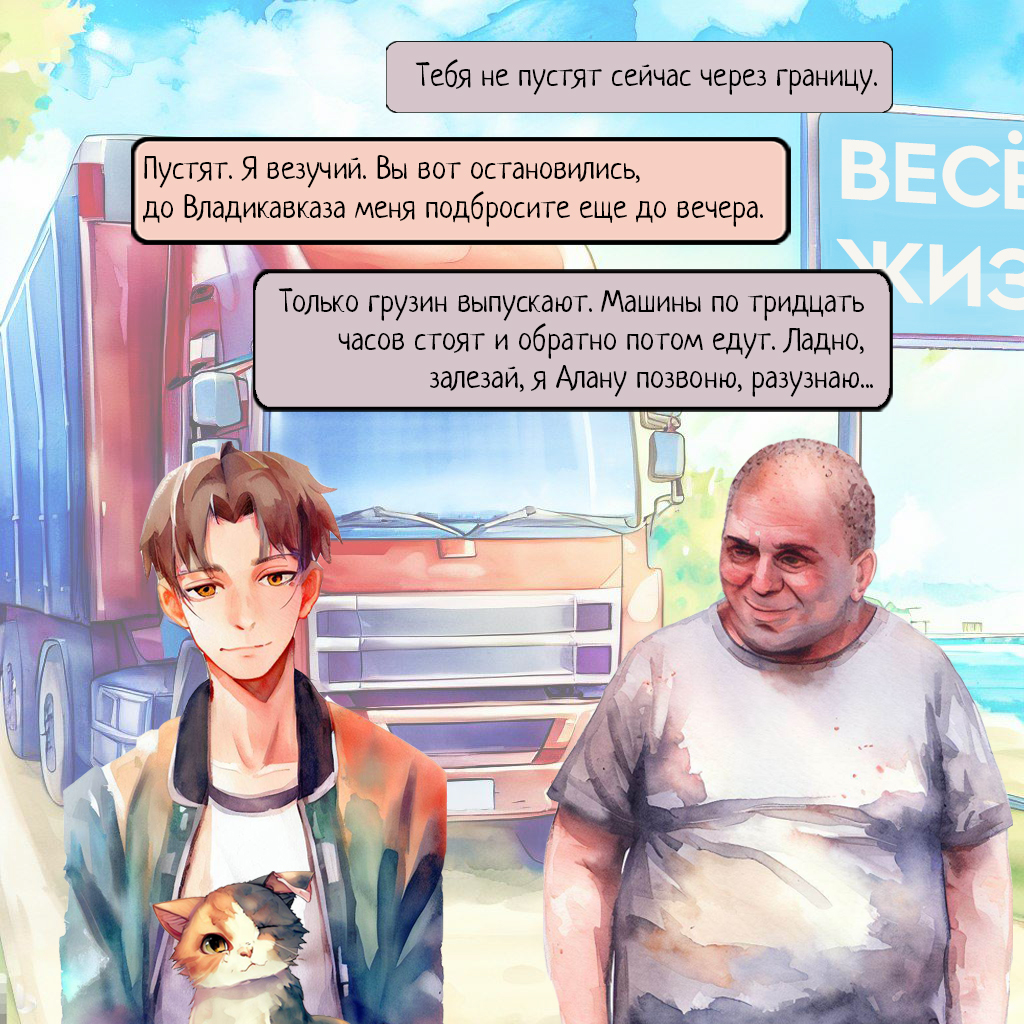 How not to drown in the information noise?
Meduza team proposed an important task at the hackathon: to develop a tool that can aggregate and analyze video and photo content from various news sources in order to remove duplicates and provide users with exclusive content. This solution is primarily useful for journalists, but it can also be beneficial for readers who are tired of the stream of reposts and repetitive information.
At our hackathon, a working prototype of such a tool was developed. It scrapes Telegram news channels, collects links and metadata about videos from these channels, stores them in a database, and sorts the results by removing duplicates.
Internet Without Borders: Next Stop Amsterdam
After the successful event in Riga, the Internet Without Borders team is taking a break until August. During this time, we will focus on refining the projects developed during our hackathons, taking them into production, and publishing a comprehensive infographic about all the past ten events. However, this is not the end of our journey! The Nomadic Digital Resistance Lab will be heading to Amsterdam on August 11th- 13th, where we will engage in practical intensive work on new challenges related to breaking through information blockades, overcoming censorship, propaganda, and disinformation. Stay tuned and save the date!